order my latest books online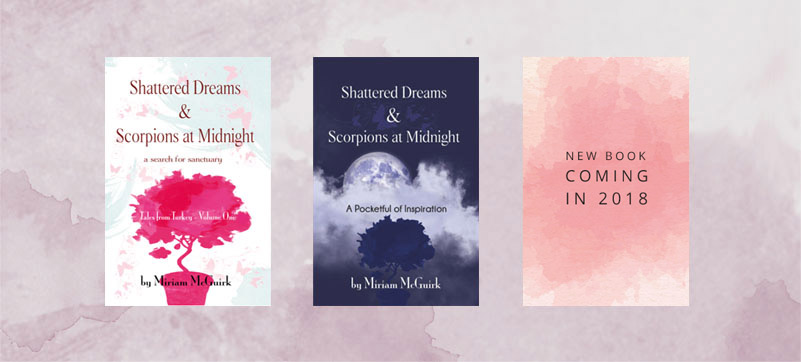 Shattered Dreams and Scorpions at Midnight: A Pocketful of Inspiration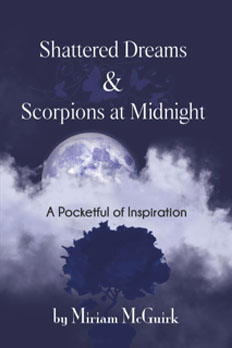 Find inspiration wherever you go! Fitting perfectly into your pocket or bag this little book of quotes and insights will help you notice the wonders that unfold around you. Flowing out of Miriam's first book, Shattered Dreams and Scorpions at Midnight, this pocketful of inspiration shows what we always knew… that stories are never just stories… they reveal truth and magic that can comfort, challenge and call us to new adventures.
Paperback: 56 pages
2 Dec 2015
Shattered Dreams & Scorpions at Midnight:
a search for sanctuary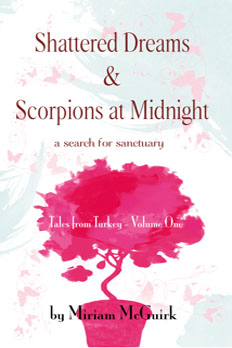 Miriam, feeling the pressure, knew it was time for change. The stress of living with M.E. had become unbearable. So in 2003 she moved to South West Turkey. She dreamt of finding a sanctuary, a place to heal by the sea. The first steps into this new world were not as easy as expected and many of Miriam's early dreams were shattered. With her Super Hero husband, CJ, she ventured up into the mountains… where a new life awaited them and where dreams could once again flourish. In Shattered Dreams & Scorpions at Midnight the rich tapestry of traditional village life unfolds in a series of fun adventures. Scorpions, chickens, dogs, dentists, decorators and charming market stallholders are only a few of the characters who populate this collection of short stories Read More
Paperback: 190 pages
4 Jun 2015
See What My Readers Are Saying
When we met at Aylesford Farmers Market I said that I would tell you what I thought of your book. Frankly it is the most wonderfully intimate collection of stories I have ever read. It more than exceeded my wildest expectations. I laughed, I cried, I fell in love with both of you. I nearly wet myself laughing at the story of the scorpion and how you can make a visit to the Dentist so interesting and amusing I will never know. My only complaint is that it was too short I could have read and enjoyed a book twenty times the size of the one you produced, but you have to keep something back for a second book. I can't wait for the next book. Please, please let me know when your next one is available.
Rarely do you find a book that is easy to read, captivating, entertaining and emotional – this is it! Miriam McGuirk's book of short stories tracks a remarkable journey full of courage and surprising events. I was transported to the tranquility of the Turkish mountains, I could taste the divine 'Dolma' dished up for lunch and laughed out loud when a scorpion sought his revenge on 'Super Hero'. In short this book is a delight, a must-read and I can not wait for the second installment in the 'Tales from Turkey' series. What a truly inspirational read.
I loved this book and am so looking forward to the next one. I was actually gripped from the very 1st paragraph and by the end of the book I felt like I had gone on the journey with Miriam. I don't want to give too much away to other readers but it was a whirlwind of Scorpions, high tech dentists, MIL's, bare feet, Turkish carpets, waxing, Kangaroo rabbits and Darth Vader. Turkey is not somewhere I had planned to visit but after reading this book I really want to go experience the culture for myself.
Amazing Story of Listening to your body & healing – I stayed up until 2am reading this intriguing book. I laughed at the chicken story & cried along with Miriam & Chris. A MUST read! I love Irish writers – their humor & irony amuse me – [Maeve Binchy is a favourite author of mine]
PS I have added South-West Turkey to my bucket list.
John and myself had the unexpected pleasure of meeting Miriam at her book signing in Tenterden, Kent and found that we had a common interest in Ireland. I read 'Shattered Dreams and Scorpions at Midnight' on a Sunday when the weather was cold and rainy most of the day and I was immediately transported back to a country of light, bright colours, lovely smells and images of the gorgeous fresh food and wild herbs on sale in the bustling market places. A charming book with many amusing anecdotes and a charming author(ess) as I like to call them. Look forward to the next instalment
Hi Miriam – I picked up your book at Aylesford market a couple of months ago. Started it on a flight to Chisinau Tues, train to Odessa Thurs and finished today on a flight from Bucharest to LHR. Writing to say what a charming account. I have the Karma CD and wonderful memories of my usually reticent husband being handed a tambourine in Cristina bar in Ortakoy and thoroughly going along with the whole Tarkan vibe.
Have just finished Shattered Dreams & Scorpions at Midnight by the lovely Miriam McGuirk. Thanks- it was a lovely read. Makes me want to get on a flight to Turkey. You are a story teller. A great job. Cant wait for the next book.
Loved reading this book. Having been to Turkey so many times I could relate to many of the situations that arose. It transported me back to the market with the aroma of fresh vegetable when the author was describing the market. I could smell the pine trees in the forest. Not sure I would have the confidence to wash my turkish rugs in the same way though. Look forward to reading more from this author.
Great to see Miriam writing and published under her own name. The stories Miriam recounts give you an insight into the communities she has become part of and makes you appreciate the simpler things in life – look forward to the next book.
I enjoyed the opening chapters as it set the scene for why and how Miriam came to Turkey and I'm sure others will enjoy her writing style as much as I did
This is a delightful easy read, captivating Miriam's journey in South-West Turkey. I felt I was transported into this idyllic life and location and did not want to leave! This is a book that will have you turning the pages wanting to find out more. Written with great humour and passion giving an insight into Turkish life and culture. Congratulations Miriam on a wonderfully written book. Cannot wait to read the next one!
I really enjoy those kind of books that you can dip into at random and come up with a smile or indeed a big laugh out loud occasionally . This is one of those books. A quirky, personal look at life in Turkey. Taking us on a journey from illness to healing via a series of stories, anecdotes and incidents. A great read